Today, Jared and I are proud to announce the public release of Shared Counts. It's a social sharing plugin that lets you easily:
Display social sharing buttons in many different styles
Retrieve counts from Facebook, Twitter, Pinterest, Yummly, StumbleUpon, and emails
Preserve your non-https share counts
Discover your most popular content
Maintain the performance of your site with lean assets and smart caching
Retain old share counts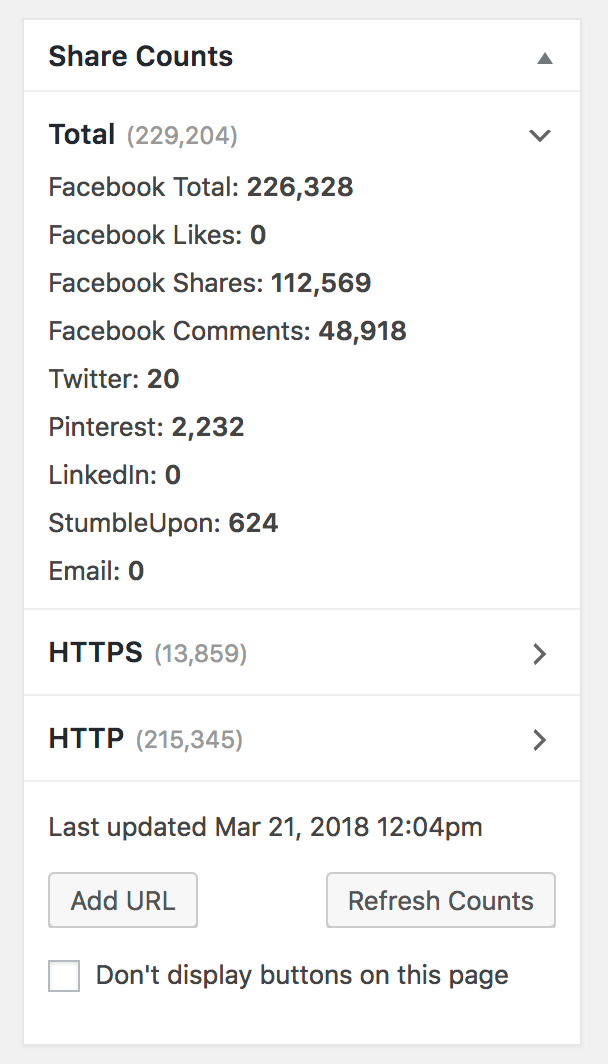 The biggest feature is that you can now keep your old counts after changing your URLs.
Every website should be HTTPS, both for SEO and security. Chrome will start marking HTTP sites as "Not Secure" which will scare many of your visitors.
But it can be painful to see your share counts start over with a new URL. As you can see in the screenshot to the right, one of my clients had 215k shares on the old HTTP version of a URL and only 13k since updating to HTTPS. With most social sharing plugins, he'd only be able to display the smaller count.
When you check "Preserve HTTP Counts", we will request counts for both the HTTP and HTTPS versions of your URL, save them separately, and then add them together before displaying it on the frontend of your site.
You can also add additional URLs to check. If you've changed the permalink of your post for some reason, you can click "Add URL" and type in the old permalink to include its counts in the listing. There's no limit on the number of URLs you can query for each post, but it's important to note that every additional URL is an extra API query.
For advanced users, you can use the built-in filters to optimize this. For instance, if you know when you switched over to HTTPS, you can check the post's published date to determine if you need to retrieve the HTTP counts. New posts only published with HTTPS will have 0 shares with the HTTP version of the URL so there's no need to make queries for those.
Discover your most popular content
We've added a dashboard widget that shows your 20 most popular posts. Here's a screenshot from my dashboard: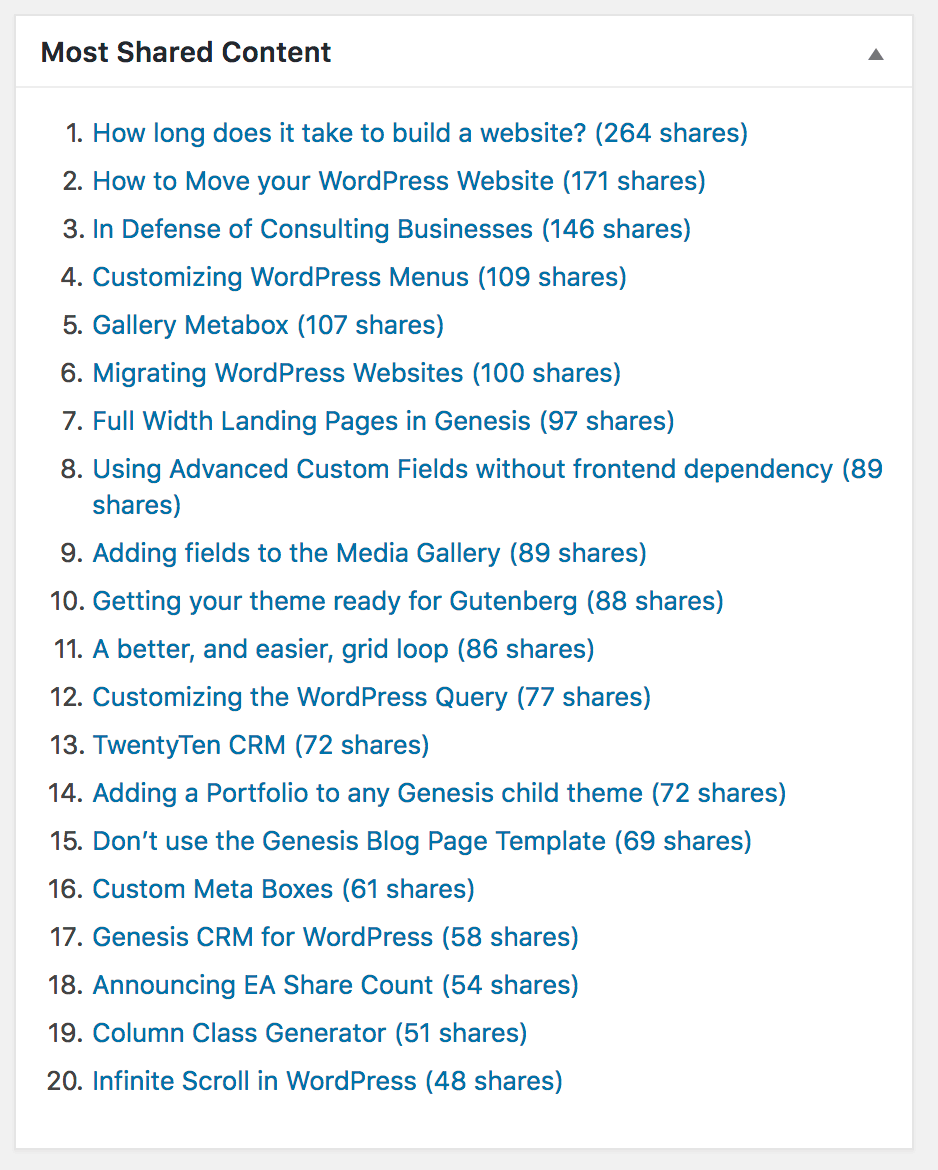 We've also added a sortable column to the Edit Posts screen that displays the share count. This will allow you drill down deeper into the data, finding your popular content inside a specific category or month.
When editing a post, you can refer to the "Share Counts" metabox in the right column for a breakdown of your total count by service and URL.
Since we store the total share count as its own meta key (shared_counts_total), you can use this in your WordPress queries on the frontend to display popular posts based on share count. On client sites we often include a "Popular Posts" section that displays 3 posts in the same category.
Integrated with SharedCount.com
We highly recommend you sign up for a free account at SharedCount.com and use its API to retrieve counts. It's a single API query for Facebook, Pinterest, and StumbleUpon counts, and seems to be more predictable than the native Facebook API.
The free account includes 500 API queries/day. If you connect your Facebook account they'll increase it to 10,000 API queries/day. This should be plenty for any website with less than 5,000 posts. If you are running out of API queries, you can tweak the update frequency here.
Migrating from EA Share Count
You may be familiar with our earlier share count plugin, EA Share Count. We started development three years ago, and publicly released it two years ago. We've continued to refine it over the years, and 90% of Shared Counts' code came directly from that earlier plugin.
We built Shared Counts as a non-backwards-compatible fork of EA Share Count due to technical requirements around the "Preserve HTTP Counts" feature. EA Share Count is still a great plugin, and if it's working well for you there's no need to switch right now. But if you do want to try our new plugin, I recommend the following upgrade path:
Keep EA Share Count installed and active
Install and activate Shared Counts
Open their settings pages in different tabs and manually copy over the relevant data from EA Share Count (ex: your SharedCount API key)
Deactivate EA Share Count
Select a theme location for Shared Counts to display (ex: before content)
You'll see "0 shares" on all your posts initially while your cache builds over 24-48 hours. For advanced users, you can use wp cli to rename the post meta keys to preserve your EASC cached counts rather than waiting for it to rebuild.
Any customizations you've made using filters to EA Share Count will need to be updated to work with Shared Counts. Almost all the filters work exactly the same in both plugins but just have different names. You'll also want to update any CSS customizations to use the new CSS classes.
Try it out!
Shared Counts has been in development for over 6 months, so we're happy to finally make it available everyone with a proper brand it deserves. Unlike EA Share Count, Shared Counts is available through WordPress.org, so its easy to install with a few clicks from within your site. Additionally, the project is available on GitHub for collaboration and bug reports.
We're really proud of this plugin, and we hope you enjoy it and find it useful! If you have any questions, just leave a comment below.