AMP is a development framework by Google for dramatically speeding up websites.
Key Features
AMP helps us build an incredibly fast website, which will improve your organic search rankings – speed is a key ranking factor.
Google makes those pages load even faster with pre-rendering, so when a user clicks your link it feels like an instantaneous, 0 second load time.
Google may reward you with placement in the top stories carousel and other rich snippet areas
My website is 100% AMP compatible. You can identify AMP websites with the lightning bolt on mobile searches: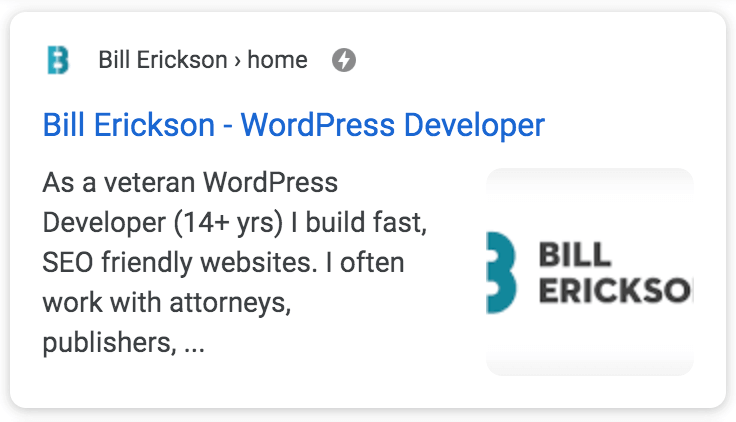 Requires expert help
You can install the AMP plugin yourself, but you'll have a basic and stripped down version of your site served to visitors, called Reader Mode.
It requires careful attention by an experienced WordPress developer to build a fully custom WordPress theme that's AMP compatible, called Native Mode. For more information, see my technical article on Building a Native AMP WordPress website.
Here's the same website shown in Reader Mode (left) and Native Mode (right).
Careful Planning
AMP should be something we consider from the very start of our discovery process. We'll need to ensure the features of the site can be implemented in AMP and customize plugins to be AMP-compatible.
Building an AMP website may excluding certain features from your new website. We'll be your guide to explore your options, research technical requirements, and help you consider the costs and benefits of using AMP.