WordPress includes the paginate_links() function for building paginated navigation links on archive pages. It works pretty well, but there are two things I'd like to change:
The end_size parameter lets you specify how many of the first and last pages to show (default is 1). But there's no way to set end_size = 0. When you're a few pages deep into an archive, you'll always have "1" at the start and the last page at the end, with dots separating it from the middle links.
The mid_size parameter specifies the number of links to the left and right of the current page. But I'd like to treat them separately, and have more pages after the current page visible. You can't make your pagination start with the current page and only show next pages.
While these may seem like minor changes, they would help reduce the varying length of the navigation links.
Here's what paginate_links()  generates on the first page of a category archive:

And here's what it looks like on the 5th page:

It takes up too much space and distracts your users from what they care about – the current page, previous link, and next link.
It's also difficult to style a navigation area that varies that much. It would look like this on mobile: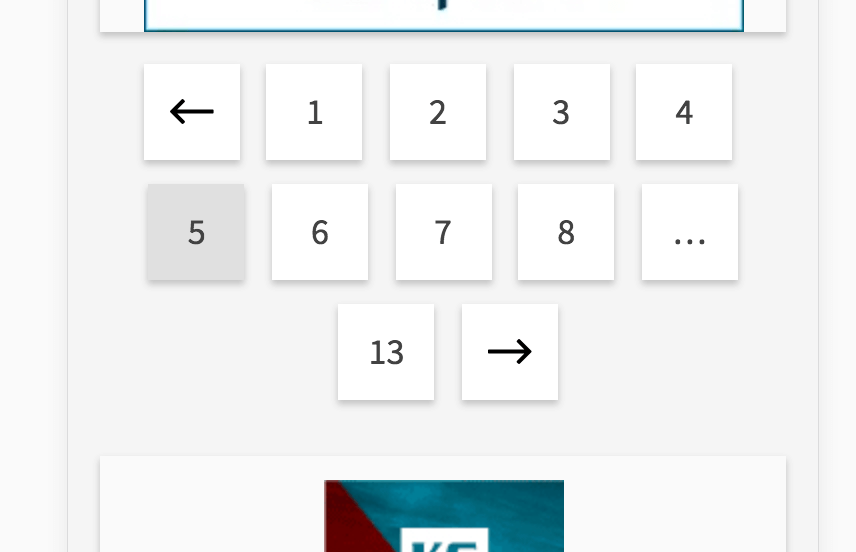 A better way
I prefer showing the previous/next arrows, current page, and some number of next pages. Here's what the navigation looks like now:

Every archive page shows the same number of links. This ensures a consistent look and user experience as they browse your archives. You can choose a number of links that fit on a single line on mobile.
Use the $settings array at the top to modify the total number of links shown and the previous/next link text.
<?php

/**

* Archive Navigation

*

*

@author

Bill Erickson
*

@see

https://www.billerickson.net/custom-pagination-links/

*

*/

function

ea_archive_navigation

() {

$settings

=

array

(

'

count

'

=>

6

,

'

prev_text

'

=>

ea_icon(

'

arrow-left

'

),

'

next_text

'

=>

ea_icon(

'

arrow-right

'

)

);

global

$wp_query

;

$current

=

max

(

1

, get_query_var(

'

paged

'

) );

$total

=

$wp_query

->

max_num_pages

;

$links

=

array

();

//

Offset for next link

if

(

$current

<

$total

)

$settings

[

'

count

'

]

--

;

//

Previous

if

(

$current

>

1

) {

$settings

[

'

count

'

]

--

;

$links

[]

=

ea_archive_navigation_link(

$current

-

1

,

'

prev

'

,

$settings

[

'

prev_text

'

] );

}

//

Current

$links

[]

=

ea_archive_navigation_link(

$current

,

'

current

'

);

//

Next Pages

for

(

$i

=

1

;

$i

<

$settings

[

'

count

'

];

$i

++

) {

$page

=

$current

+

$i

;

if

(

$page

<=

$total

) {

$links

[]

=

ea_archive_navigation_link(

$page

);

}

}

//

Next

if

(

$current

<

$total

) {

$links

[]

=

ea_archive_navigation_link(

$current

+

1

,

'

next

'

,

$settings

[

'

next_text

'

] );

}

echo

'

<nav class="navigation posts-navigation" role="navigation">

'

;

echo

'

<h2 class="screen-reader-text">Posts navigation</h2>

'

;

echo

'

<div class="nav-links">

'

.

join

(

'

'

,

$links

)

.

'

</div>

'

;

echo

'

</nav>

'

;

}

add_action(

'

tha_content_while_after

'

,

'

ea_archive_navigation

'

);

/**

* Archive Navigation Link

*

*

@author

Bill Erickson
*

@see

https://www.billerickson.net/custom-pagination-links/

*

*

@param

int $page
*

@param

string $class
*

@param

string $label
*

@return

string $link

*/

function

ea_archive_navigation_link

(

$page

=

false

,

$class

=

'

'

,

$label

=

'

'

) {

if

(

!

$page

)

return

;

$classes

=

array

(

'

page-numbers

'

);

if

(

!

empty

(

$class

) )

$classes

[]

=

$class

;

$classes

=

array_map

(

'

sanitize_html_class

'

,

$classes

);

$label

=

$label

?

$label

:

$page

;

$link

=

esc_url_raw( get_pagenum_link(

$page

) );

return

'

<a class="

'

.

join

(

'

'

,

$classes

)

.

'

" href="

'

.

$link

.

'

">

'

.

$label

.

'

</a>

'

;

}