Google Analytics is a free marketing analytics tool for businesses to understand their customers and website performance.
We recommend it for every website. If you don't already have it installed, we can help you set it up prior to our discovery phase or you can follow the instructions below. We will also ask you to provide us access to analyze the data.
The simplest way to integrate your free Google Analytics account with your WordPress website is to install the free Monster Insights plugin. After building out your site we may recommend upgrading to Monster Insights Pro to take advantage of advanced reports like form conversions and AB Testing.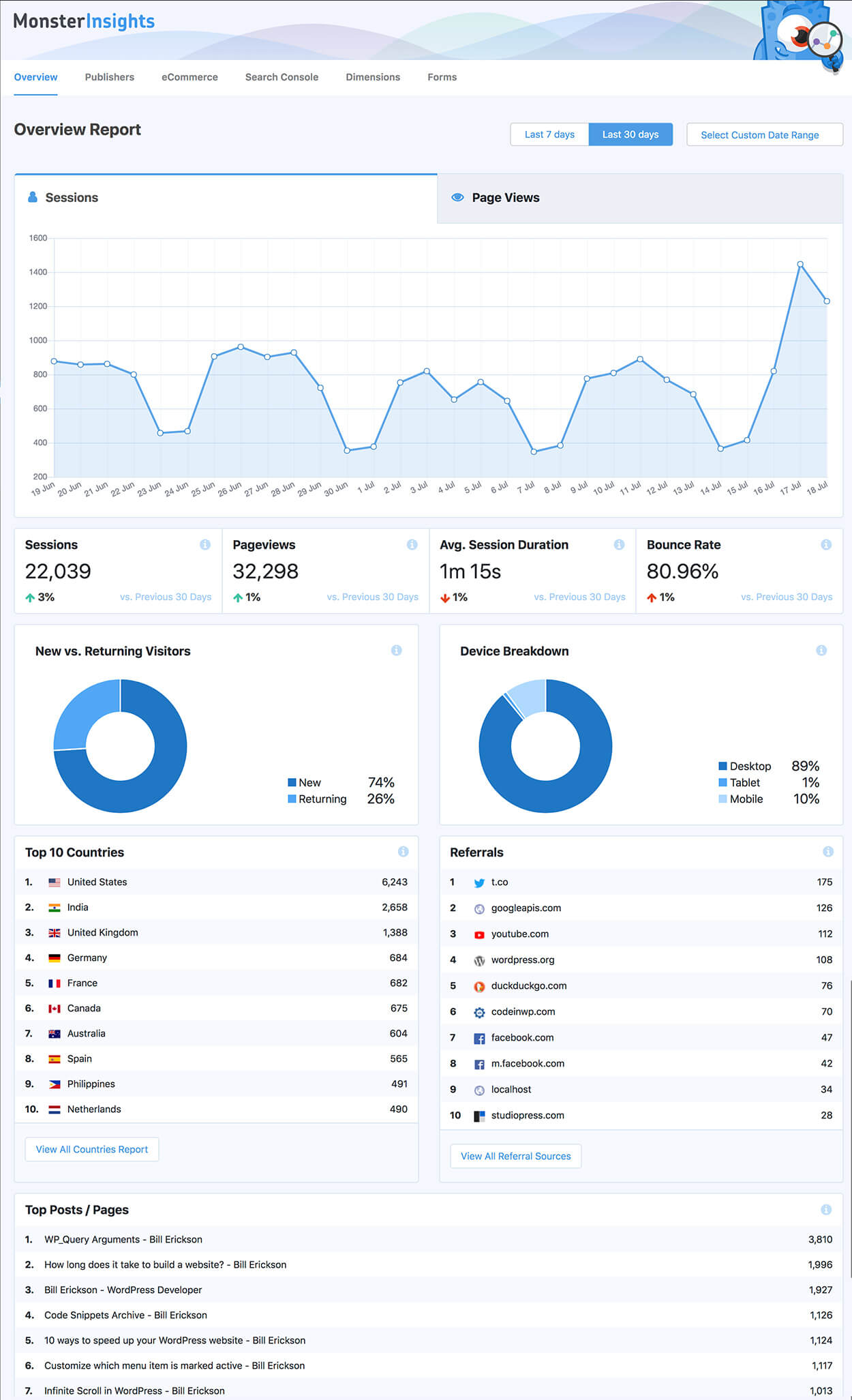 Monster Insights will provide simple reports in the backend of your website for easily monitoring your site's performance. I also recommend you to take the free Google Analytics for Beginners course provided by Google so you're comfortable with the more advanced reports provided inside Google Analytics itself.
During the website redesign process we'll define the key metrics you'll use to measure the success of your website (increased conversions, content engagement, pageviews, speed, social sharing…). I'll guide you through the reports that provide this information. We can even set up Google Analytics to email you these reports weekly or monthly.
How to Set Up Google Analytics
Go to Google Analytics and in the top right corner click "Sign In", then "Analytics". If you don't already have a Google account, create a free one.
Click the "Sign Up" button in the right column.
Provide an account name (ex: "Company ABC"), website name (ex: "Company ABC"), and website URL.
At the bottom, click "Get Tracking ID", and click "Accept" in the terms of service window.
You can now leave Google Analytics and open your website.
In the backend of your website, go to Plugins > Add New, and search for Monster Insights. Click Install and Activate.
Under Insights > Settings, click "Connect MonsterInsights" and grant it access.
That's it! After a few hours you'll start seeing data appear both in Google Analytics and the "Insights" area of your website's backend.
Provide me access to your Google Analytics
In our discovery questionnaire we will ask for "Read & Analyze" access to your Google Analytics account so we can better understand your website and users.
Log into Google Analytics. In the bottom left corner, click "Admin" (screenshot).
Make sure you have the correct Account and Property selected (screenshot). Under Property, select User Management (screenshot).
Click the "+" in the top right corner, and click "Add New Users".
Type [email protected] as the email address, and check at least "Read & Analyze" as the permission level (screenshot). I may also request the "Edit" permission to set up goal tracking, segments, and other measures of success you'd like to track for the website redesign.