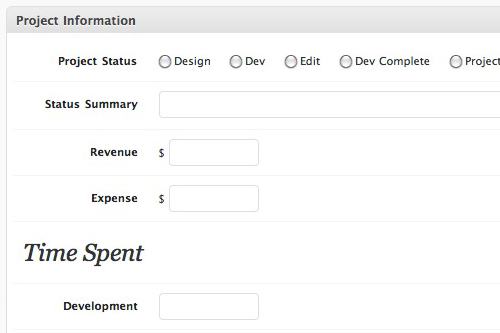 See the CMB Wiki for a full description and examples. If you have any issues or feature requests, please post them in the issues section. I've closed the comments here.
When using WordPress as a CMS, you'll often need to associate data with a post or page that doesn't fit the predefined inputs (title, post editor, categories…). WordPress has a built-in feature called "Custom Fields" for managing this data, but the interface isn't user-friendly.
Custom Meta Boxes allow you to build clean, understandable interfaces for entering metadata. I use them on almost every project. Above is a screenshot of my CRM which makes extensive use of metaboxes (full screenshot).
You could use a plugin like More Fields to create them, but I prefer to have them included in the theme rather than dependent on a plugin.
Here's how to set up your own meta boxes:
Create a "lib" directory in your theme or child theme, and a "metabox" directory inside "lib". Upload the files you downloaded above into /wp-content/themes/your-theme/lib/metabox
Include /lib/metabox/init.php in your functions.php file, and define your metaboxes in an array (see below).
Here's an example of using the metabox code to create a Rotator Options metabox that's displayed on the Rotator post type. This is what I use when installing the WP Rotator plugin.
Each meta box is stored as an array. There's a ton of field options, including text, textarea, checkbox, dropdown list, and WYSIWYG. For examples on how to use all the fields, look at /metabox/example-functions.php.