Pritzker Hageman, P.A. a nationally recognized personal injury law firm, needed a complete refresh to their website while maintaining their high search engine rankings.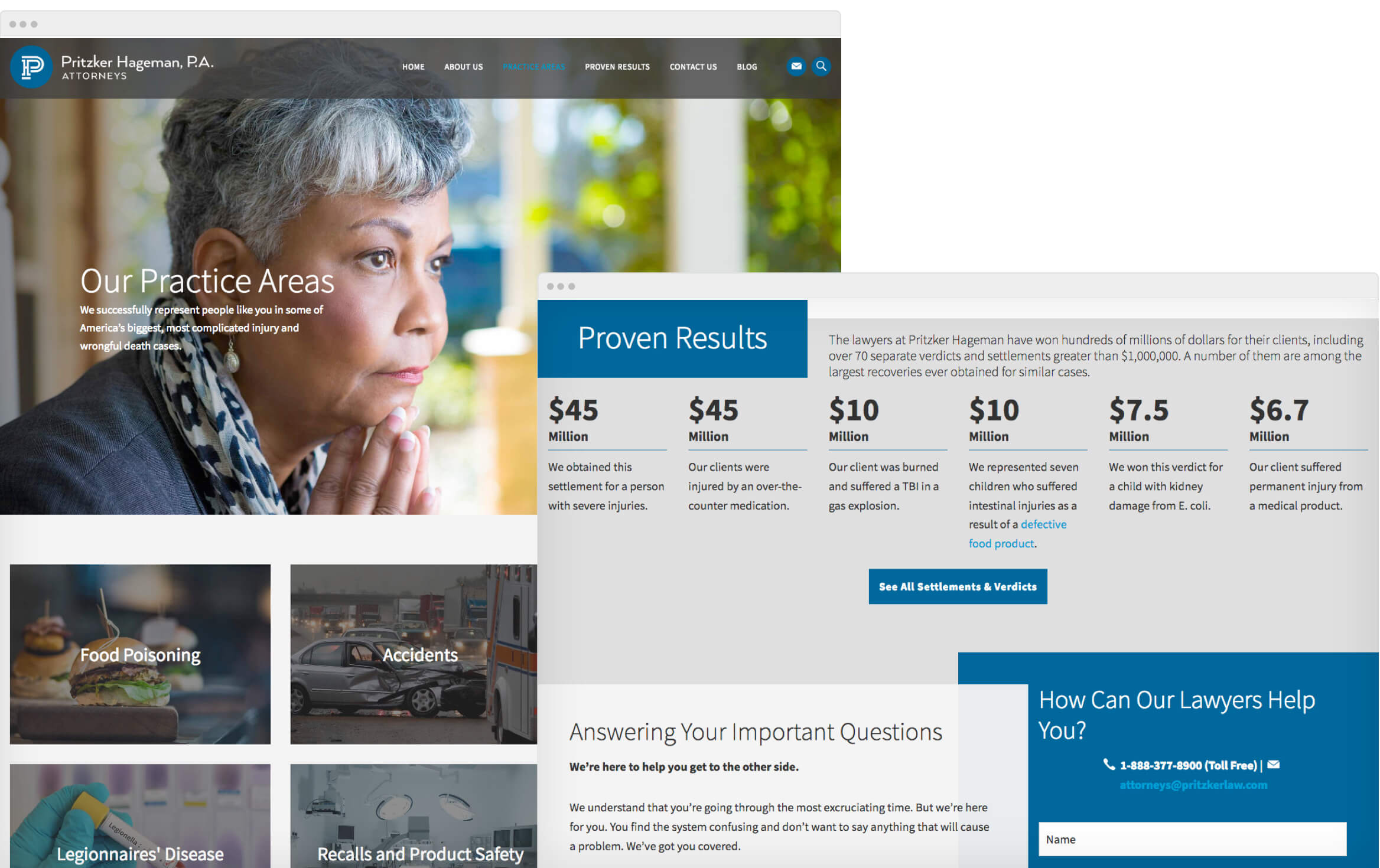 We contacted Bill after a long search looking for a developer to revamp our website. From our first consultation with Bill, we knew we were in good hands. Throughout the process, Bill was as committed to our project as we were. He would respond to questions and concerns we had quickly and contributed ideas that have helped make our site a success.

Thanks to Bill and Duane, the designer on his team, our website is beautiful, functional, fast and effective. We have had a number of significant email inquiries since our redesigned site went live. In short, Bill Erickson is prompt, professional, and has an unparalleled understanding of WordPress. You can hire him with confidence.

Kathy Will
Internet Marketing Manager at Pritzker Hageman, P.A.

Client Carousel
Unlike many attorney websites that feel impersonal, Fred Pritzker wanted his clients to tell their stories. The homepage features a rotator of featured client stories, which scale to fit any screen.
Flexible Templates
Most pages are built using a modular template, allowing site editors to easily build complex, full-width pages. Some modules focus on static content, like Content with Image Overlay and FAQs, while others feature dynamic content pulled from other areas of the site, like Client Stories and Top Verdicts.
Attorney Microsites
Attorney profiles serve as microsites, allowing attorneys to share their individual story, video introduction, results, and other relevant information. Each lawyer has complete control over the tabs and content appearing on their profile. A contact form allows visitors to contact this specific attorney.
Mobile First Design
With more than half their traffic on mobile devices, it's important the website be equally engaging and usable on mobile, tablet, and desktop screens.
No sidebars are used on the site, ensuring a consistent content structure across all devices. The menu has the same functionality on mobile and desktop. Page elements are built in stacking columns so they look great at every screen size.